Help fund the campaign to protect uncontacted tribes' land rights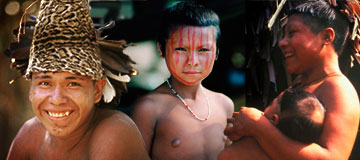 Survival's campaigns have already helped to protect the lands of the isolated Nukak in Colombia and some uncontacted tribes in Peru, halted an attempt to deforest the land of uncontacted Ayoreo in Paraguay and recognize the lands of the greatest concentration of uncontacted tribes in the world in the Javari Valley of Brazil.
Help us do more. No amount is too small.
Be the first with pictures, films and news of uncontacted tribes
Subscribe to a monthly update from tribal peoples, by Survival International
Ask Peru to remove loggers from the lands of uncontacted tribes

Illegal logging is devastating the lands of
uncontacted tribes in Peru
, and the president has even denied the tribes exist. Please write a letter to President Humala asking him to remove the loggers.
Write now »
Ask Brazil to stop the illegal deforestation on the lands of uncontacted Awá

Awá
lands, although protected on paper, are being destroyed more quickly than anywhere else in the Amazon. Please ask President Rousseff to expel the illegal loggers and ranchers.
Write now »
Ask India to stop illegal poaching in the Andaman islands
Poachers are putting the Jarawa and uncontacted Sentinelese of India's Andaman Islands at risk of disease and violence. Please write to Prime Minister Singh urging him to keep poachers out of the tribes' lands.
Write now »